By Casa de Campo Living – Posted on July 23, 2018
This post is also available in: Spanish
During this summer, The Foundation MIR hosted a robotics camp for their students at the MIR school for girls, thanks to the extraordinary support of The Community Bots. The girls had a wonderful experience and loved every minute of it!.
The Community Bots is a program that provides training in STEM-robotics for middle school girls in underserved communities in New York City and Latin America. They have recognized that the ideal time to expose girls to the field of STEM-robotics is during their impressionable middle school years.
They have seen throughout the years how middle school girls can form negative stereotypes about gender roles related to STEM education, which can ultimately lead to limited career opportunities in fast-growing STEM fields. Community Bots challenges these stereotypes by providing hands-on, STEM-robotics courses. They came down to Fundación MIR and donated equipment as well as trained the teachers in these programs on how to use a pedagogy that is student-centered, fun, and engaging while celebrating the achievements of women in the STEM-robotics field. Together with the newly trained teachers, they ran a one-week, introductory robotics courses for the students.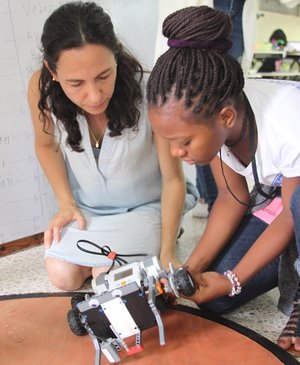 The summer camp exceeded all Fundación MIR's expectations because it undoubtedly broke the barriers and fears the students had about mathematics and technology. The girls were excited, motivated, happy and proud of themselves for their achievement!
"We greatly appreciate The Community Bots for donating their time, sharing their passion and leaving us all the materials to continue this wonderful project. Likewise, we thank Saint Joseph Academy, in Baton Rouge, for the donation of 20 laptops for the girls. This gesture will forever be in our hearts." – Fundación MIR